Yesterday I attended the Motor Trend sponsored Pennsylvania Auto Show in Harrisburg, PA where I had a chance to see all the new 2010 and 2011 car and truck offerings from all our favorite auto manufacturers. While crossovers and hybrids seemed to get the most attention from the crowds, the sportscars are what held my gaze. Although I have to say that I was somewhat disappointed with Ford's showing (or lack of showing) their Mustangs. They had a 2011 Mustang V6 convertible there (yawn) and a 2010 GT convertible (what's will all the convertibles guys?). No 2011 Mustang GT 5.0 Coyote, no Shelby Cobras. Cheverolet's display of their Camaro was more impressive (they did a good job with it). But I can't say that ANY car offered by the manufacturers caused me to pause and say, WOW! The only exception was an after-market Mustang that one of the local dealers had there…a 2010 Roush Stage 3 Mustang with 540HP. That one stopped me in my tracks…grin. Below is a Publicity photo of it: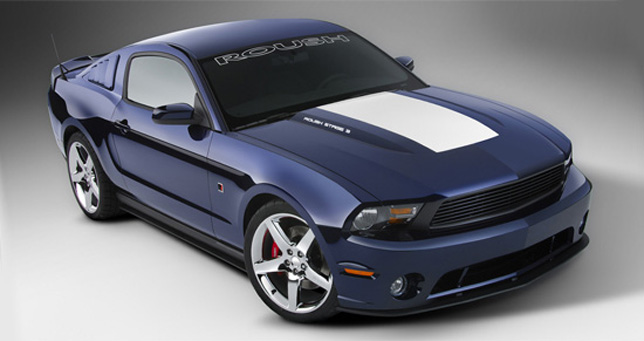 Was I impressed with the new car designs being offer for 2010/2011? In a word…No! . It's funny, it only takes ONE auto manufacturer to create a design that becomes popular and then the parade begins with the endless knock-offs (like the Scion xB, the Honda Element and now the new Ford Flex, which I almost like). You saw it with mini-vans, with SUVs, with crossovers and now hybrids too. Where's your innovation guys (I mean…beyond the concept cars, that is)?
Well, in honor of the Car Show, I decided to dig around in old Patent submissions to see what creative automobile designers from the past could teach us today about designing cars. So of the designs I found are super cool…some, not so much…but ALL are in the Public Domain. Hope you enjoy them (and think about product possibilities)!