Archive for January, 2010
Yesterday I attended the Motor Trend sponsored Pennsylvania Auto Show in Harrisburg, PA where I had a chance to see all the new 2010 and 2011 car and truck offerings from all our favorite auto manufacturers. While crossovers and hybrids seemed to get the most attention from the crowds, the sportscars are what held my gaze. Although I have to say that I was somewhat disappointed with Ford's showing (or lack of showing) their Mustangs. They had a 2011 Mustang V6 convertible there (yawn) and a 2010 GT convertible (what's will all the convertibles guys?). No 2011 Mustang GT 5.0 Coyote, no Shelby Cobras. Cheverolet's display of their Camaro was more impressive (they did a good job with it). But I can't say that ANY car offered by the manufacturers caused me to pause and say, WOW! The only exception was an after-market Mustang that one of the local dealers had there…a 2010 Roush Stage 3 Mustang with 540HP. That one stopped me in my tracks…grin. Below is a Publicity photo of it: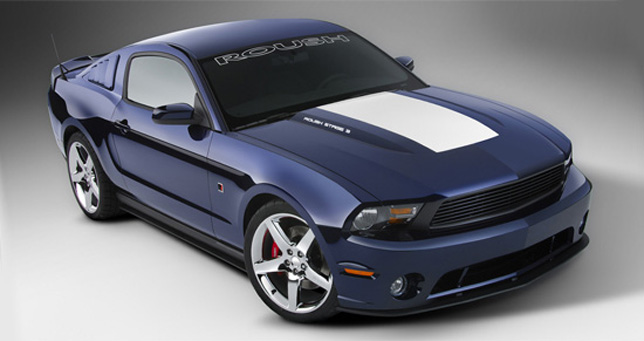 Was I impressed with the new car designs being offer for 2010/2011? In a word…No! . It's funny, it only takes ONE auto manufacturer to create a design that becomes popular and then the parade begins with the endless knock-offs (like the Scion xB, the Honda Element and now the new Ford Flex, which I almost like). You saw it with mini-vans, with SUVs, with crossovers and now hybrids too. Where's your innovation guys (I mean…beyond the concept cars, that is)?
Well, in honor of the Car Show, I decided to dig around in old Patent submissions to see what creative automobile designers from the past could teach us today about designing cars. So of the designs I found are super cool…some, not so much…but ALL are in the Public Domain. Hope you enjoy them (and think about product possibilities)!
I had a fun e-mail discussion over the weekend with one of my subscribers who promptly informed me that audio is dead. Guess I missed that memo…apparently, so did iTunes, Rhapsody, Audible, TuneCore and a ton of other highly successful audio websites. Actually, I guess AT&T, Verizon, Sprint and T-Mobile missed it too, since pretty much ALL our cell phones count on AUDIO. Then there are all the millions of MP3 players out there…oh…and all the radio and satellite radio stations. And let's not forget my favorite, Pandora.com…as well as Slacker.com, Last.fm and Jango.com…guess they missed it too.
The truth is that audio is here to stay…it isn't going anywhere, which is why YOU need to be creating it. Now, in all fairness, this guy is a TV guy…has stations and everything. I guess I'm wondering though what his viewership would be like if he didn't include the audio component of his broadcasts…grin. I'm guessing it would be less.
Don't get me wrong…in a lot of respects, video IS important…heck…Lord knows I'm using a lot of it (have you SEEN my blog lately?). But you STILL need to understand audio to make video effective. For example, what if you want to add background music to your video file? What if you need to include a voice-over in that new how-to video? You kinda need to understand audio. And THAT'S why you need to understand how to Create Audio Products! THAT'S also why I shared my knowledge about the subject!
The great news is that you can STILL grab your copy of Create Audio Products at the introductory price…but ONLY for 12 more hours. The price increases to the regular price at Midnight EST, January 25th. Better hurry!
BTW – For the record…I'm GLAD this subscriber contacted me…I appreciate his feedback and insights…yours too! My greatest hope is to see you create successful audio and video projects and products…and audio is key to both. Time to get started with it!
The Jimmie Kimmel show created a rather inventive documentary in the style of Ken Burns (National Parks: America's Best Idea) recounting the drama between NBC, Jay Leno and Conan O'Brien. The documentary is a perfect example of how you can use Public Domain content to create innovative projects (and products). Enjoy!
[youtube]http://www.youtube.com/watch?v=UKZ1lMtd2NE&feature=player_embedded[/youtube]
Creating your first audio product can be intimidating…even without the technology issues. Maybe you're not sure how to start, or what to say, or if what you have to say even matters. One of the BEST sources I've seen to help you decide what to talk about or where to begin is by studying magazine and tabloid headlines to look for idea formulas. Here is what I mean:
The January 2010 issue of "In Style" magazine has a headline, "145 No-Cost Ways to Improve Your Look."
Now to create an idea formula from this headline, simply remove, the defining elements to end up with:
"____ (number) No-Cost Ways to Improve Your _______."
Let's say that you want to create an audio product or podcast for your gardening niche. Using the idea formula we just created, you could come up with something like:
"7 No-Cost Ways to Improve Your Tomato Yields"
"10 No-Cost Ways to Improve Your Soil Quality"
Or a further variation without the word "Your"…
"5 No-Cost Ways to Improve Insect Control"
Let's look at another niche…model railroading:
"7 No-Cost Ways to Improve Your Scenery-Building Skills"
Now this is just ONE idea formula from one magazine issue! There are hundreds of other ideas out there waiting for you. You can easily string together a series of new idea formulas inserting your niche topic to create ideas for dozens of audio podcasts and audio products. Use your imagination! Oh, and if you don't feel like taking a trip to the bookstore or grocery store, buzz over to Magazines.com to access all the latest covers.
Try this one:
"7 No-Cost Ways to Improve Your Audios Using Idea Formulas"
Now, this "idea formula" strategy will work for more than just audio creation. It also serves as a great method for creating blog post and article titles as well as ideas for video. Have a Blog Talk Radio show? This strategy is perfect for developing show ideas to grow your audience.
Create Audio Products shows you how to easily make the jump into creating your OWN successful audios. In it, I share my own proven strategies and methods for creating audio products. I also reveal stealth methods for using proven content from the Public Domain to create a limitless supply of niche-specific audios that you'll be proud to call your own! Grab your own copy of Create Audio Products today (if you haven't already) because the price is going to be increased on Monday, January 25th.
Hey there…I wasn't planning to release another video so soon. But, while I was at lunch with my Mom today, I was thinking about how easy it really can be to create audio products…even at lunch with your Mom…grin. So I handed Mom the video camera and recorded this short video to demonstrate the process. BTW, below is also the audio I recorded on the video.
[veoh]http://www.veoh.com/videos/v19694205e6TzZtAC[/veoh]
Here is the audio I recorded on the video…

To discover how YOU can Create Audio Products and take advantage of an exploding product creation opportunity, click the link below and learn the secrets, step-by-step!
In this latest episode, I share a new insight for using catalogs and parts manuals from the Public Domain. I'm also freezing my butt off!
[veoh]http://www.veoh.com/browse/videos/category/educational_and_howto/watch/v19689077WqZrPAx8[/veoh]

Some say they like to start off the New Year with a bang. Last year, mine began with a Nuclear Blast. In a 15-day time span at the beginning of 2009, my divorce was finalized, my daughter moved away, my husky Kola died, my Father died, my business was at a standstill and I was in a relationship that officially didn't exist. If there ever was a Dark Night of the Soul, this was mine…and it was hell, to be quite honest. I learned a lot about myself, and a lot of what I learned I didn't like. I had a choice…to learn from what was happening and grow, or stay where I was and be a victim. I chose to grow…I chose to be honest with myself and see things for what they were.
Here is what I learned…
Each day, we are given a new chance at life, with fresh hopes, fresh dreams, new choices and mercy…LOTS of mercy! The beginning of each new week presents us with 168 brand-new opportunities to create the life we want…and if we don't, it's no one's fault but our own. I discovered that most people are genuinely caring at some level. The outpouring of grace, understanding and prayers I received was overwhelming…in a good way. It served as a lifeline of sorts…along with some special friends who were really there for me in the darkest hours.
I also came to realize that all of it…all that was going on…was a giant mirror, reflecting back to me what was really going on inside me. It was an outward reflection of who I was inside, and boy, what a mess I was! And while some would like to hold me in that space of who I was, I have some great news to share about who I AM as a result of that journey…
I am an overcomer, not a survivor. I am a better person. I have a greater spiritual depth and understanding. I am not defined by what others think of me. I am a romantic with a lot of love to share and receive. I am a single Dad who loves his girls and wants the best for them. I am an artist full of creativity to express the world from my perspective. I am a teacher with something of value to share. I am an entrepreneur who genuinely wants to see his friends and customers succeed.
But most of all…
I learned that I am lovable and am loved. I believe in myself. I deserve good. I will succeed. And it's all possible because during every one of the 60 minutes in an hour, I can choose differently. Every day I have 24 new opportunities to win. Every week, I have 168 HUGE chances to make a difference. Every year, I get 365 shots of fresh mercy to start out again.
And here is the BEST part…
SO DO YOU! Don't limit yourself and don't short-change yourself! It's all there waiting for your embrace…your choice!
Oh, and now…YEAH…I love my life!
In this episode, I share a cool strategy for using niche content from Public Domain magazines to create live action videos.
[veoh]http://www.veoh.com/videos/v19657786nDKmqPCw[/veoh]
After a little bit of introspection, I've concluded that I'm a bit of a magazine junkie. I can't help myself…I love 'em…and for a LOT of reasons. And because of my fondness for magazines, they've played a big role in my business as well. They can help your business as well in some ways you may have not considered before now. Here are a few quick business-building "magazine" strategies for your consideration.
Market Research
It's no big secret that one of the keys to success in business, online or offline, is understanding the interest and needs of your customers. And while there are numerous ways to identify these consumer trends (keyword research, Ebay and Amazon buying trends, Twitter trends, etc.), one of my favorite ways to investigate consumer trends is to take a look at magazines. The short and concise revelation of trends with magazines is simply this: If there aren't any (or many) magazines about a given topic or niche, then it's likely that there is little interest there for Joe Consumer.
While this axiom is certainly not exclusive in its scope, it certainly rings true in most cases. If there is massive consumer interest in a given niche, there will likely be a large number of magazines to support that interest. Take golf for instance. Golf is considered an "evergreen" niche…one that will always be popular. Magazines.com offers no less than ten magazines specific to golf…Amazon.com offers even more with all the international editions they include. So just by this statistic alone, you could easily say that this is a strong, albeit competitive, market to look at for product creation.
simple trip to Borders or Barnes and Noble can offer great research insights for what's hot and what's not. But in case you want to stay close to home, here are the best places online to see which niches boast a strong (or weak) presence in the magazine marketplace.
Magazines.com – Features more than 2,000 magazine publications on their site and makes it easy to identify the most popular magazines in any given topic.
Amazon.com/magazines (Amazon's magazine bestseller list is also worth some of your research time. You can access it HERE).
Magazine.org – The official website for Magazine Publishers of America. This is a great site to explore for identifying trends in magazine offerings, ad spending, popular topics and more.
Product Creation and Blog Content
I have written and taught in some detail about the significance and benefit of using content from magazines in the Public Domain as a part of your product creation or blog posting process. With less than one percent of all magazines published before 1964 now in the Public Domain, these magazines are a virtually untapped goldmine for fresh content for your products, blogs and articles. While I go into great detail how to find and use magazines from the Public Domain in my popular product, Limitless Blog Content, I thought I'd share a few places to discover old magazines online. Discovery is an important part of the process, of course, because you can't find what you don't know to look for, except by accident. And I prefer to be deliberate in my business.
I often talk about using Ebay as a great source for older magazines, and the truth is that it is perhaps the best online source for old magazines there is. A great place to start on Ebay is right here in their Old Magazines section. There are also a few other online sources for identifying and locating older magazines as well. While I have not shared these before now, I will tell you that they are worthy of your investigation.
The first website I'd like to share is Past Paper. They offer over a million rare and back-issues of magazines for sale on the site. Not all the magazines they carry are in the Public Domain, but I've found them to be a great resource for tracking down magazines on a given topic. The second website is Used Magazines. I share this one hesitantly because the magazines they offer are primarily focused in men's niches (like cars and motorcycles) but also include adult magazines as well…so visit at your own risk. They do, however, offer a great selection of automobile and motorcycle-related magazines.
For more insights and strategies on how to use Magazines to enhance and build your products, blogs, articles and more, be sure to check out Limitless Blog Content, the definitive, step-by-step guide to Public Domain magazines.